Pax Mini or Pax Plus?
In this comparison, we will explore the key differences between two popular models: the Pax Plus and the Pax Mini. If you're looking to make an informed choice, this guide will help you decide between the two portable vaporizers from Pax Labs.
Main Differences
Temperature Control: The Plus offers four temperature levels, the Mini has a single general heat setting.
Dual Use Function: The Plus can handle either concentrate or herb. The Mini is specifically designed to be a dry herb vape only.
Size: The Mini is smaller and lighter compared to the Plus.
Oven Size: The Mini holds up to .25g only. The Plus has the option of .25g or .5g depending on which oven lid you use.
Colors: The Plus comes in 4 different colors, and the Mini currently only has two (silver and onyx)
Haptic feedback: The Mini Lacks this feature for device notifications.
Warranty: Years of warranty coverage differs, the Plus has 10 years and the Mini has up to 2 years.
Similarities
Redesigned 3D Oven screens for better loading, heating & cleaning
Similar Simple & Modern Design
Single mouthpiece button with seamless control
Battery life of 2.5 hours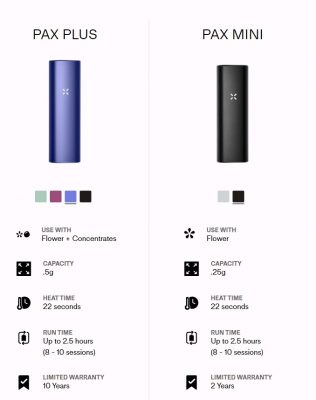 Design and Build Quality
The Pax Plus boasts a sleek and ergonomic design that fits comfortably in your hand. Crafted from high-quality materials, it exudes durability and style. Its brushed aluminum finish gives it a premium look and feel. It comes in a choice of four unique colors: Sage, Periwinkle, Elderberry and Onyx.
On the other hand, the Pax Mini takes portability to the next level with its compact size. While sacrificing some features compared to the Pax Plus, it remains a sturdy and well-built option. The Mini's small form factor makes it ideal for on-the-go vaping. Available in Onyx or Silver for the color choices.
Temperature Control
Pax Plus
The Pax Plus offers precise temperature control, allowing you to customize your vaping experience. You can choose from a range of temperature settings to achieve the desired flavor and intensity. This feature caters to both beginners and experienced users.
Rather than specific degrees, the Plus offers four experience modes that cover both low to high temperatures for dry herb or oil vaping. Experience Modes include: Stealth, Efficiency, Flavor, and Boost Mode.
Pax Mini
While the Pax Mini has good vapor production, they are more limited compared to the Pax Plus. This is because the Mini has an automated heat setting. This general setting makes it much better for beginners or for those who want the most direct load and draw experience.
Factors such as the duration and strength of the draw will impact the temperature. Manual temperature adjustment to the degree is not possible. It's similar to a simplified version of the PAX 3 with extensive and unused features cut away.
Vapor Quality
Pax Plus
Equipped with advanced heating technology, the Pax Plus delivers a smooth and flavorful vapor. Its conduction heating system evenly heats your herbs or concentrates, producing consistent clouds of vapor. Higher temp experience modes will allow for bigger clouds with concentrate.
Pax Mini
The Pax Mini may be smaller, but it doesn't compromise on vapor quality. It utilizes conduction heating as well, ensuring that you still enjoy a satisfying vaping experience. The difference lies in the size of the chamber, which affects the volume of vapor produced.
Portability
Pax Plus
While the Pax Plus is portable, its larger size may not be as pocket-friendly as the Pax Mini. It's better suited for those who prioritize vapor quality and customization over extreme portability. Stands at just under 4″ and weighs 93g, very similar to the previous Pax 3.
Pax Mini
The Pax Mini's compact design makes it incredibly portable. It easily fits in your pocket or bag, making it an excellent choice for users constantly on the move. It stands at about 3.5″ tall and weighs less, 89g.
Which vaporizer is right for me?
In the battle of Pax Plus vs. Pax Mini, both vaporizers have their strengths and cater to different preferences. The Pax Plus excels in vapor quality and more temperature options, making it perfect for at-home vaping or extended vaping sessions. On the other hand, the Pax Mini prioritizes portability without sacrificing too much on performance, making it ideal for those who are always on the go.
Your choice between the Pax Plus and Pax Mini will depend on your vaping habits and priorities. Consider factors like design, vapor quality, temperature control, battery life, portability, and maintenance when making your decision. Both vaporizers offer a high-quality vaping experience, ensuring that you can enjoy your favorite herbs or concentrates to the fullest.
Make an informed choice and elevate your vaping experience with the Pax vaporizer that best suits your lifestyle.
Video
Read More
tags: Pax Plus Review, Pax Mini Review