SAVE 10% NOW - USE CODE: CITY420 IN CART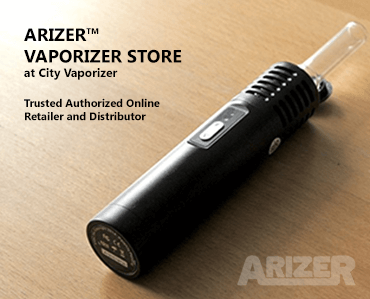 Arizer Vaporizer Store
People who buy Arizer vaporizer are gifted with Arizer vaporizer Canada and Arizer vaporizer USA medical-grade precision. Coming about when vaporizers handled poorly and burnt herb, they left the vaping community stunned. The brand makes a point to leave everyone satisfied. Desktop powerhouses like the Arizer Extreme Q, highly mobile vapes like The ArGo and Solo 2, create clear terpene notes for those avid connoisseurs. The Arizer Air, and Solo series both became overpowering rivals to other companies quickly with large clouds and some of the smoothest vapor on the market. Arizer is always getting praise from Reddit and all around great reviews from big names such as High Times Magazine and others.
Arizer Portable Vaporizers
Why Buy Arizer Vaporizers? Everything.
Arizer stands as a pillar in the herbal vaping community and also in the market. Since 2009 the company has become known first as being a standard that rivals look up to. Secondly, for producing premium device despite being a mid-range price. Similar to City Vaporizer based in Toronto, Arizer was founded in nearby Waterloo, Ontario. Making us proud to carry their ground-breaking lineup. Indeed reputation alone supersedes any hesitation people might have with these vapes. Consequently from numerous positive reviews, the general consensus for Arizer is that they've paved the way for herbal vaping tech's future.
Stemming from Canada, and transitioning from small to then large-scale operations, the company maintains a surprising level of quality control. This probably plays into surely why they have such generous product return and exchange policies. Explaining this, often times when a vaping tech company expands rapidly, quality control departments can suffer dramatically. This combination of optimized support and warranty assist nervous buyers who are concerned with how much they invest in their vape. Granted that Arizer is incredibly affordable, it's important to have peace of mind when purchasing something, for instance like the Arizer Extreme Q.
Good Ol' Reliable Arizer
Arizer Vaporizer Canada has carefully sourced materials to impress upon people who buy Arizer vaporizers an especially reliable device for the long haul. Additionally, the Arizer lineup strays away from using external applications and lets you fully customize your experience directly in your hand. Backing this reputation is an array of device features, device warranty, and equally important is their customer support. 
Subreddits such as r/Vaporents and r/Arizer are full of people who buy an arizer vaporizer asking for help with device issues. Without fail, comments immediately suggest the Arizer customer support from sheer reputation alone. Each device comes with an extended warranty and lifetime warranty is offered for the ceramic heating element you'll find in Arizer vaporizers. Especially for more information on Arizer Warranty, at the bottom of this page, you'll find our warranty and customer support section expand on the individual policies Arizer offers.
The Arizer Aesthetic
Arizer makes a point to remain consistent throughout their lineup in multiple features to guarantee a quality experience no matter what you choose. This collection really makes a point to be your one-stop-shop for vapor quality. A professional, almost medical, look makes these vapes look as they should, about their business. Firstly, you'll experience an all glass vapor path with each device for maximum flavor production and cooled hits. Expanding on the vapor department, all Arizer vapes come with either a hybrid or convection-style heating.
Not only do glass vapor paths and mouthpieces benefit flavor, but the unique stem system compliments a load-and-go lifestyle with rubber caps and often times a carrying case. Also important, the stem loading system leaves no awkward cracks for residue to seep into, which means easy cleaning! Finally, convection heating is achieved by loading a glass stem and attaching the vaporizer upside down. Here your herb should remain suspended for perfect convection vapor with an even pack. For more information on how to clean Arizer vaporizer USA and Arizer vaporizer Canada, please feel free to refer to our maintenance section near the bottom half of this page.
Continuing on convenience, vapers can buy Arizer vaporizer mouthpieces here to run 2-4 sessions consecutively. Also, look out for interchangeable 18650 battery compatibility, which means you can always have a fresh charge ready to go! Arizer vapes work best with less-moist material while taking longer and more gentle inhales to maximize battery life and vapor density. Advanced customization menus come on select devices to offer timer alteration, Celsius-Fahrenheit mode options, and several other features! For more analysis of Arizer vaporizer Canada and Arizer vaporizer USA, visit our lineup review section below.
The Arizer Lineup
Arizer Solo 1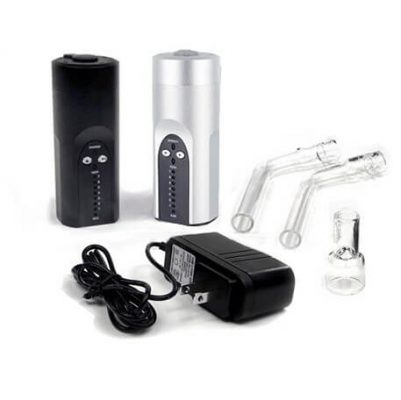 The early days of vaping transitioned dramatically when the Arizer Solo exploded onto the market in 2011. Offering features to benefit every vaper, building off the advancements older products, opened up the flood gates for other Arizers to follow suit. Arizer's signature glass stem system shines brightly here, providing those who buy Arizer Vaporizers a bent style and regular style stem as well as a complimentary aroma dish. Of course, the glass stem system began an era of simple vaporizer maintenance and easy operation. This device accelerated in flavor and vapor density, and its features still hold up to this day.
Also important, Arizer makes a point of Including a great warranty system most companies struggled to rival during the inception of the Solo. Building on this, a durable exterior with stable components allowed the Solo to quickly became an investment worthwhile. With seven pre-set temperatures to work with, the Solo heats in 1.5 to 2 minutes. Additionally, the Arizer Solo brought the lesser-seen hybrid heating method to the game. A full charge sees five to seven full sessions and each session is complimented by a 12-minute safety shutoff. Below is a list of the heat settings the Arizer Solo can provide.
1 –122F°
2 – 365F°
3 – 374F°
4 – 383F°
5 – 392F°
6 – 401F°
7 – 410F°
 Arizer Solo 2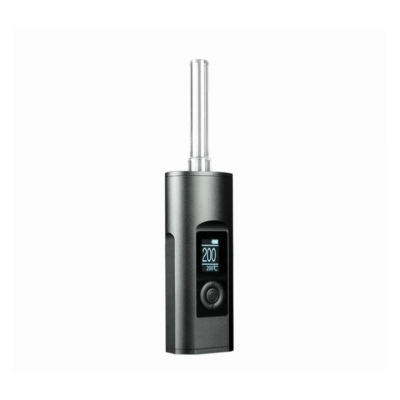 The sequel to Arizer's debut vaporizer, the Solo 2 improves upon its predecessor aggressively, without damaging room for new features. Large clouds of vapor, improved airflow, and boosted battery are indeed some of the previous Solo fans will notice. With a whopping 3-hour battery life, you've got up to 20 sessions of premium vapor. Also a surely-impressive feature is the 300% improvement on session heat up speed, which can have you vaping in only 20 seconds. Included as well is an adjustable shutoff time from five to fifteen minutes, the default beginning at a balanced 10 minutes. Mentioning heat, the Arizer Solo 2 utilizes the same style of heating as the Solo 1, but differs in range and expands in flexibility with 122F°-428F°.
High Times Magazine, HighRise TV, and many other big names out there have praised the Solo 2 for it's impressive performance inside of a mid-tier price range. A unique carrying case, and rubber caps for your glass stems make portability and pre-packing sessions much less of a hassle. You're provided a longer stem for cooled hits and a short one for flavor. City Vaporizer recommends a medium-density pack with this device. Like all Arizer vaporizer Canada and Arizer vaporizer USA, an aromatherapy dish is included to help diffuse any unwanted smell.
Arizer Air 1
Diversifying from their Solo series, the Arizer Air focuses on ease-of-use, portability, and overall airflow.  Arizer decided to also provide a silicone protection sleeve to prevent scratches and absorb fall damage. Those who buy Arizer vaporizer variants also experience the same glass stem system, and carry case as the Solo 2, however the Air truly contrasts by providing a durable plastic-tipped mouthpiece and improved stem connection for all variants.
Like all Arizers, the Air has super simple maintenance, and simplistic device operation with flexible customization. As mentioned before, this is indeed one of the 18650 battery interchangeable devices. Not to over-mention, but of course this allows for continuous access to a full charge without delay. Five different settings are provided from 180C° to 210C°. Feel free to find below a full list of all temperature setting for the original Arizer Air. With most Arizer vaporizer Canada and Arizer vaporizer USA, an aromatherapy dish is included to help diffuse any unwanted smell.
356F° (Blue)

374F° (White)

392F° (Green)

401F° (Orange)

410F° (Red)
Arizer Air 2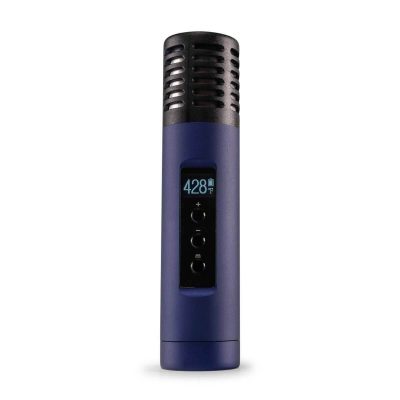 A lot of movie sequels are just terrible. Nonetheless there's simply too many to mention. Arizer isn't like Hollywood. The Arizer Air ii is phenomenal device slaughtering the portable herbal vape game. A brand new OLED screen features accurate temperature display, allowing vapers complete exploration in flavor and vapor density. Most importantly, the Air 2 offers temperature control for full session optimization. The device operates from 122° F all the way to a stunning 428° F! Air's sequel also sees even more airflow, an isolated air path, and even more battery life, operating for up to 90 minutes or an additional two 10-minute sessions.
Hybrid heating, easy cleaning via the glass stem loading system, and 18650 battery compatibility are all features that carry over from the original device. Arizer provides a 2-year warranty on the device, and an amazing lifetime warranty on the ceramic heating element inside. Finally, the Air 2 includes "pass-through" charging, meaning device usage during charging is optional but not recommended to preserve battery life. In summary, this is the ideal capitalization on the Air 1's success, being completely revamped to create the perfectly-tailored solution.
V-Tower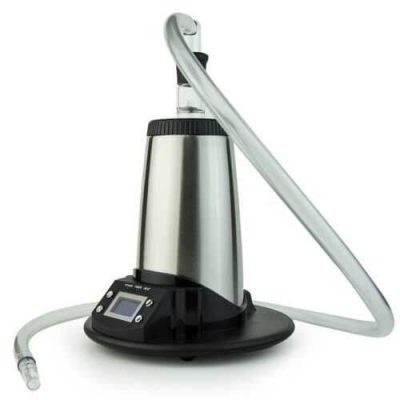 Starting out Arizer's desktop lineup, the V-Tower is an affordable beast that presents the current peak of vapor quality in a cool, whip-style vape. Classic features including a glass stem system, and an excellent warranty are of course, also included. Straying away from the norm is a heavily sought-after system where hot air is the only material making contact with your herb called convection. Traditional vapes, unfortunately, mostly heat their chambers entirely which is passable, but can alter flavor and increases the likelihood of combustion. People who buy arizer vaporizers never worry about combustion. It goes without saying that this device rivals the Storz and Bickel Volcano for it's affordability, making true convection accessible to a much wider range of folks. Transitioning from the air bag method of vaporization, the V-Tower uses a whip to intensely cool each hit.
Building off of several desktop vape designs, Arizer installs a large chamber capacity holding about 0.5 grams of material depending on coarseness of your grind. Effective Canadian engineering protects the heating core inside the unit, making an accidental brush up against it a very unlikely scenario. It goes without saying that the V-Tower includes a large aromatherapy dish and glass stirring tool. These exist to maximize any desired potpourri effects and potently fill the room with your chosen herb. The device includes an adjustable 1-hour shutoff, which is helpful for those more forgetful. This feature also leaves the possibility for extended sessions in a party setting. Overall, this device wraps up to be a fully capable, best-priced, sleek-looking, desktop vape for premium potency!
Extreme Q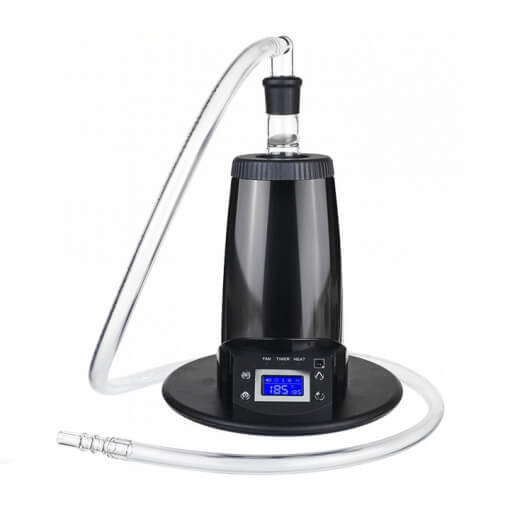 V-Tower's success influenced Arizer to create something even more versatile and personalized experience. An immediate difference you'll notice is the new bag option vapers can choose on top of the cooling whip. The Extreme Q's adjustable fan creates a bag full of rich vapor, and assists in automatic drawing from the whip attachment. You'll get 3 fan speeds with 1 being ideal for thick and potent vapor and 3 allowing for much larger clouds, without an obnoxious motor noise running during each session you have. People who buy Extreme Q vaporizers also get a remote control with tons of features, excellent for controlling a party session across the room. More on the remote's features, you can adjust power, the LED under glow, fan speed, audio, and some preset Celsius temperatures.
Additionally, the device has great on-device control with full temperature display through the screen among standard device features. Coupled with a 3-year warranty, the Extreme Q boasts Arizer's trademark easy cleaning and a lifetime warranty on the ceramic heating element. Yet again, people who buy arizer vaporizer kits are provided with an aromatherapy dish, excellent for potpourri. Also notable, the audio notification system is adjustable and can be disabled entirely. In like fashion to the V-Tower, without it's attachments, the Extreme Q doesn't let on to look like a vaporizer in any way!
ArGo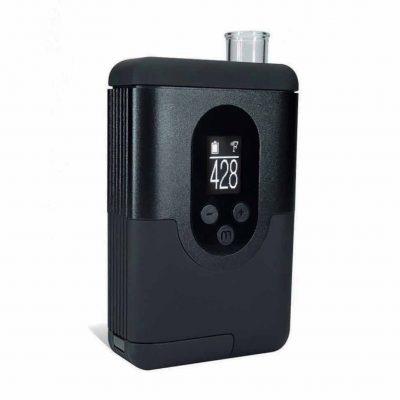 Launched in December of 2017, the ArGo vaporizer copies a lot of trademark features, but steps forward in innovation in a number of ways. Pronounced "R-Go", and short for "Arizer Go", this device is the ultimate portable solution Arizer produced this year. Contrasting dramatically from the older lineup's aesthetic, the ArGo uses a push-top to expose and likewise, protect the all-glass vapor path. Improving in device weight, the ArGo comes in at only 97 grams, compared to 217 grams for the Arizer Solo. As lightweight as it is, it's impressively able to range from 122F°-428F°. You'll get a classic Arizer carrying case, easy-cleaned glass stems, and the standard rubber caps for stems to make pre-loading easier.
Learning from the popularity of the feature on other devices, 18650 battery interchangeability is also included for endless access to a full charge. Speaking of charging, you'll see 90 minutes of continuous usage complimenting a 60-second heat up time. Chamber size is incredibly versatile, holding about 0.2 grams, able to work with micro-dosers regardless. Arizer really takes a step forward in herbal vaping tech, providing a 100% portable vape, with premium capabilities, and of course, a mid-tier price!
XQ2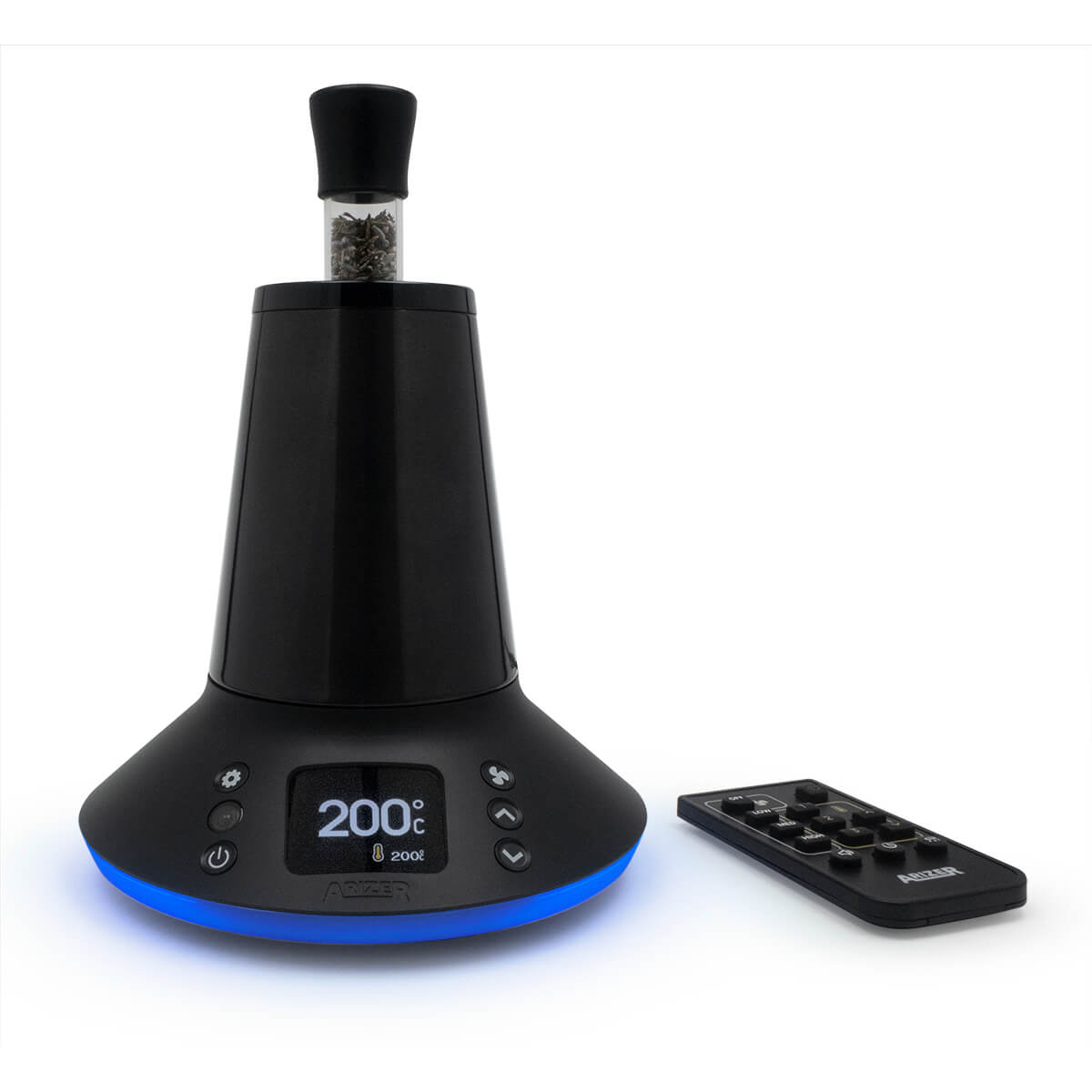 We've done the work so you don't have to. The Arizer Way means high quality products that are safe, reliable, easy to use, efficient, and affordable. The all new Arizer XQ2 is the culmination of over 15 years of experience designing and manufacturing high quality products, and listening to feedback from our valued customers. The choice is simple. Experience Why Arizer is Better By Design.
Arizer Product Manuals
The Arizer lineup comes with exemplary manuals including proper visuals and properly thought-out instructions. If at any point you encounter issues with Arizer vaporizer Canada and Arizer vaporizer USA, please don't hesitate to refer to our FAQ page or contact Arizer directly.
How to Clean Arizer Products
Touched upon earlier, these vapes are designed to have incredibly simple cleaning, due to their unique glass stem. Overall, these vaporizers don't need much more than a simple stem cleaning and chamber wipe down. To cover all the bases, included below is a short tutorial on how to maintain Arizer vapes in general.
Remove and soak glass stem in isopropyl alcohol (99%)

Use cleaning brush or pipe cleaner to remove all residue from chamber

Wipe off the rest of the device with a preferably dry wipe

Soak all separate glass components in isopropyl alcohol (99%)

Rinse all glass stems,

Allow all glass component dry
Arizer Technology Warranty and Customer Support
Arizer has the best reputation on the market for customer support an warranty policies. Overall, you can expect to experience some form of extended warranty with each vape you buy. In fact, instead of providing customers and clients with a single resource to ask for help, Arizer makes a point to make separate, product-specific pages to assist you with each device and a few other important topics. If you need any further assistance with Arizer vaporizers Canada or Arizer vaporizers USA, please feel free to visit our FAQ page for any questions you might have. Arizer states that glass is not covered under warranty For warranty specifics, please refer to the Arizer support page listed earlier in this section.