Introducing the PAX Plus – the ultimate dualuse portable vaporizer. You can now enjoy full flower and potent concentrate sessions from the same device. The PAX Plus has been improved with a fresh oven design, screen, and multi-tool to make cleaning a breeze.
PAX Plus Features:
Dual Use: Flower & Concentrate Vaporizer
3000mAh Battery lasts up to 2 hours
4 Experience Modes (Efficiency, Stealth, Boost, Flavor)
Haptic Feedback
Easy Remove Screen
Multi-tool Included
Oven Capacity: 0.25g (Half-Pack) / 0.5g (Full Pack)
10 Year PAX Warranty
Eco-friendly Packaging​
What's in the Box:
1 x PAX Plus Vaporizer
1 x Raised Mouthpiece
1 x Flat Mouthpiece
1 x Oven Lid
1 x Half Pack Oven Lid
1 x Concentrate Insert
3 x 3D Oven Screens​
1 x Multi Tool​
1 x Wire Brush
1 x Magnetic USB Charge Cable
PAX has upgraded its design with bigger LED lights, a smooth matte finish, and color matched mouthpieces that blend in with the device. It comes with four unique modes to maximize your experience with flower and concentrates. The rounded edges make it easier to take hits from and comfortable to hold in your hands.
Designed in California, it is made from a lightweight aluminum alloy, so it weighs close to nothing but is still durable. The conductive heating brings out the best flavor and smooth vapor. The device is powered by a built-in battery, with dedicated charging pins, and has fast charging. 
The All New PAX Lineup
The new generation of PAX devices includes the PAX Plus and PAX Mini. This is the result of over 10 years of innovation brought to you by PAX Labs. This new line of vaporizers has been designed to extract the best out of your stash. The patented temperature settings will give the best and even heating without any smoke and burning whatsoever.
Lightweight
The device is incredibly light and this makes it much more travel friendly compared to other larger vaporizers that produce harsh smoke. Combined with the no button interface, the PAX Plus really stands out at the top for a pocket sized device.
Easy Maintenance
The oven chamber was designed to have very even heating so no material goes wasted. It's covered with a magnetic oven lid that is easier to remove and put back. It will snap in place once it touches the base, so it won't be a loose piece that's hard to find.
The stainless steel surface is easy to wipe down and clean. After every few uses, clear out the vapor path with a soft bristle pipe cleaner. Clean your device after use with the included maintenance kit to keep it in good performance.
Everything Inside
For the PAX Plus packaging, many extra add ons come included inside for convenience. This is unlike the previous PAX 3 where the kits depend on the standard or complete editions. Both flat/raised mouthpieces, standard half pack oven lids, concentrate insert & multi tool is all included.
For a solo sesh, change out the oven lid to the half-pack to hold a smaller amount of herb. For long time use, keep the standard lid to hold the maximum amount of material. Changing up the oven size is easy, and keeps your herb fresher in the long run.
Choosing to include all items makes it easier to start vaping the way you want right away, and gives you more value out of the device for the smoothest portable vaporizer experience.
Discreet Vapor
This smart vaporizer for dry herbs and oil uses convection heating. This means it creates low odor and smoke compared to traditional combustion methods of using cannabis. The design of the device is visually discrete and small, and it has the ability to make any hits you take with it much more low-key.
Experience Modes
Rather than having preset temperatures that require a lot of focus changing to the heat you want during the session, the PAX offers four different 'Experience Modes' for temperature control.
To enter the modes, press and hold the top button, then press once to toggle through the option. When you have chosen the mode you want, press and hold the button or simply give the device a shake.
Stealth Mode (Blue): Lighten the amount of vapor and dims LEDs
Efficiency Mode (Green): For longer sessions that start low then rises to a higher heat
Flavor Mode (Yellow): Lower heat that will bring out the flavor of the material with an average vapor
Boost Mode (Red): High temperature and vapor production, best for extracting concentrates
Load (Herb): Grind your dry herb then pack tight into oven. Load (Concentrate): Remove oven screen and open the concentrate insert chamber lid. Insert material inside circle. Close lid and place insert into oven.
Power On: Press and release mouthpiece button to turn on.
Choose: Press button for 2 seconds and release. Short press to toggle through the 4 experience modes. To lock it in, long press the button or shake the device.
Wait: It will start to heat up. Wait for all lights to turn green.
Enjoy: Inhale slowly for the best vapor production.
Clean: Use cleaning kit to maintain the device every 3-5 uses.
| | |
| --- | --- |
| Power Supply | Built in battery |
| Battery Life | 2.5 hours |
| Heat Time | 22 Seconds |
| Heat Type | Conduction |
| Temperature | 50°C – 220°C (122-392°F) |
| Compatibility | Dry herb and Concentrate  |
| Warranty | 10 Years with Pax |
What's Different? PAX Plus vs PAX 3 Review
You might be wondering, what is the difference between the PAX 3 and the PAX Plus?
Let's start with the improvements. The PAX Plus features a redesigned oven, screen, multi-tool for easier cleaning​, and the 4 integrated experience Modes. The 4 preset modes are what really distinguish the PAX Plus from its predecessor.
What's different is that bluetooth capability is no longer available on the PAX Plus, meaning there's no need at all to control both the device and your smartphone during your session. The ability to customize your temperatures more precisely through the app is lost, which could be seen as a downside or an upside, depending on your needs.
You may not want an extra device to have a more straightforward vaping session, or need another app on your phone with all the extra bits and bobs. You can just as easily access each experience mode with just the touch of a single button, making it a more streamlined experience.
Both are excellent performing dual use vaporizers that have similar functions, designs, and high vapor quality. The older PAX 3 kit comes at a slightly lower price point with Bluetooth support. The brand-new Plus has an updated, all in one approach with redesigned oven screens for even smoother access.
Video Review
PAX Best Sellers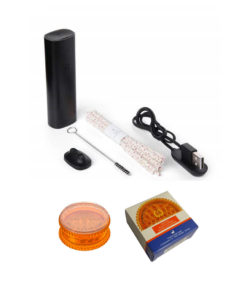 Out of stock
Last Updated on November 23, 2023 at 4:25pm