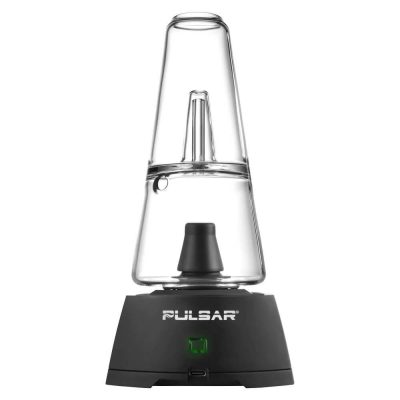 Are you tired of using bulky and complicated vaporizers that just don't deliver the smooth and flavorful hits you crave? Look no further than the Pulsar Sipper Wax and Oil Vape Bubbler, a game-changing device that will take your vaping experience to the next level.
Let's start with the design and build quality of the Pulsar Sipper. From the moment you hold this device in your hands, you'll notice the sleek and modern design that's both aesthetically pleasing and functional. The bubbler is made from high-quality borosilicate glass, which not only looks great but also provides excellent durability and resistance to high temperatures. The device also features a powerful battery and a convenient USB-C charging port, so you'll never be caught without a charged vaporizer.
The Sipper is larger than most other vape bubblers on the market, allowing for a more substantial hit with each use. Its dual-purpose design accommodates both dabs and 510 threaded cartridges, making it a versatile option for vapers.
But what really sets the Pulsar Sipper apart is its performance and vapor quality. This device is designed to deliver smooth and flavorful hits, thanks to its advanced heating technology. The device features a powerful ceramic heating element that heats up quickly and evenly, providing a consistent vaping experience. The bubbler also has a unique water filtration system that helps to cool down the vapor, resulting in a smoother and more enjoyable hit.
Using the Pulsar Sipper is incredibly easy, even if you're new to vaping. Simply load up the bubbler with your preferred wax or oil, press the power button, and start vaping. The device also features a user-friendly interface with LED lights that indicate battery life and heating status.
But of course, no product is perfect, and there are a few drawbacks to consider. The Pulsar Sipper may be a bit heavy for some users, which could make it less comfortable to hold for long periods of time. Additionally, the water filtration system requires regular cleaning to maintain optimal performance. However, these minor issues are far outweighed by the many benefits of using the Pulsar Sipper.
In conclusion, the Pulsar Sipper Wax and Oil Vape Bubbler is the ultimate vaping companion for anyone who wants a high-quality and enjoyable vaping experience. With its sleek design, advanced heating technology, and smooth hits, the Pulsar Sipper is truly a game-changer in the world of vaping. So why wait? Try the Pulsar Sipper today and take your vaping experience to the next level.
FAQs
How often do I need to clean the water filtration system?

You should clean the water filtration system after every use to maintain optimal performance.

Is the Pulsar Sipper Wax and Oil Vape Bubbler compatible with all types of wax and oil?

Yes, the Pulsar Sipper is compatible with most types of wax and oil. Its dual-purpose design accommodates both dabs and 510 threaded cartridges, making it a versatile option for vapers.

How long does the battery last on a single charge?

The battery can last up to several sessions, depending on usage and temperature settings. It is equipped with a 1500mah battery.

Can I adjust the temperature on the Pulsar Sipper Wax and Oil Vape Bubbler?

Yes, the device features adjustable